---
As we were conducting research into individuals registered as donors to Keir Starmer, we encountered an intriguing anomaly. A donor to Starmer named Helen Rowe, on whom we have been unable to corroborate further details, had also donated £10,000 to an entity called The Labour Tribune MP's Group.
The only other registered donors are Patrick Allen (£10,000) and Labour Together Ltd (£15,000).
Patrick Allen also donated to Owen Smith's leadership campaign. Labour Together is an anti-Corbyn campaign group funded by two individuals, Sir Trevor Chinn and Martin Taylor. We cover both men in our forthcoming article as both are registered donors to Keir Starmer. Both donated to Saving Labour and other groups or MPs that actively campaigned against Corbyn's leadership.
Current registered Directors of Labour Together include Lisa Nandy MP, Steve Reed and Jon Cruddas. Keep this in mind as we dig deeper into the Tribune Group!
Now of course our spidey senses tingled wondering what the connection could be between donors linked to Starmer, centrist pressure groups and a group of MPs we had personally never heard of that operates inside the Labour party!
The initial research was conducted over a month ago and the website for the Tribune MPs (http://www.labourtribunemps.org/) had been bookmarked for us to come back to. This site included a mission statement for the group, links to articles and events the Group had published and organised, and, most importantly for our purposes, a full list (with pictures!) identifying each Labour MP that is a member of the group.
However.
When we returned to the bookmark to access the site we discover:
Your Spidey senses twinging yet?
So who are The Tribune Group of MP's, and why would they delete a site that identifies who they are, and what they stand for?
THE TRIBUNE GROUP
The RedPepper.org provide an excellent analysis of the history and influence of the Tribune Group as a caucus within the main Labour Party. The article covers the groups origins and links to the Tribune Magazine in the 60s, to the traumatic schism in the 80s between the more "soft-left" Tribunite members, who supported Neil Kinnock's leadership of the party, and the more "hard-Left" Bennite members. Those that splintered from the Tribune Group went on to form the Socialist Campaign Group.
Jeremy Corbyn joined the Socialist Campaign Group when he was elected as MP in 1983. The SCG associated themselves with movements external to the Party as well as internal factions, which
represented a radical break from the Tribune tradition. Far from welcoming a collaboration with social movements, the Tribune group of the 1980s increasingly saw extra-parliamentary struggle as counterpoised to electoral activity and, especially as they moved closer to government, they strongly opposed it…
There is an inevitable tension between electoral activity and engagement with social movements, between winning governmental power and building extra-parliamentary power. Both are needed if a party with socialist policies is to implement its mandate. But how does it win within the political system as it is, while at the same time nurturing the transformative power that it will surely need once it is elected?
Sound like they've a historical axe to grind with not only Jeremy Corbyn, but with an entire bloc of MPs, members and activists they consider to be "hard-Left"? Does it feel like they sense an opportunity?
The Tribune Group became increasingly marginalised and neglected during the 90s and under Tony Blair's leadership. The Group was resurrected by Clive Efford MP in 2017 with 75 MP's signing the newly drafted mission statement. This statement was of course accessible on the now deleted site. A Guardian article reports that
The document talks about the need to develop a dynamic economy and supportive state which pursues greater equality of distribution through the taxation system. It states the party's aim has to be to reform the coalition of traditional party supporters and middle-class voters that won Labour successive elections from 1997 onwards. "The propositions we have set out can appeal to traditional voters and to those we need to win."
And that was it.
Until.
Prior to the NEC elections a new site (https://www.labourtribune.com/) appeared publicising three candidates that were running as representatives of the Tribune Group.
Now if you access this site you find a professional looking page that profiles the three candidates, Paula Sherriff, Liz McInnes and Theresa Griffin. It is a single page with no archives, mission statement or list of MPs that are members. There are links to each individual candidate's Twitter profiles and the profile for Labour Tribune MPs, which still has a link to the dead site posted in its introduction. The site also has a link to a Facebook page, on which we can at least see events and posts that concern members of the Group, but also retains the link to the dead site.
None of the candidates fielded by Labour Tribune were elected but it is interesting to note that two of them, Griffin and Sherriff, were endorsed by Labour To Win.
Labour To Win is a campaign group formed from the unholy alliance of Progress Ltd and Labour First to oppose Jeremy Corbyn's leadership and the influence of Left-Wing groups, such as Momentum, on the internal political apparatus of the Labour Party. Nathan Yeowell served as a Director of both Labour to Win and Labour First.
Progress Ltd are funded or affiliated to several donors to Keir Starmer, including Martin Clarke (£10,000), Community Union and USDAW. Tony Blair donated £10,000 to Progress Ltd in 2018. Progress is based at 11 Tufton Street and was founded by Liam Byrne MP and Derek Draper.
What's interesting to note about Labour First is that a registered Director is Luke Akehurst, who has just been elected to the Labour NEC as a candidate representing Labour to Win. He is a former Director at Weber Shandwick, a PR company that Priti Patel also worked for, and he is currently a Director of lobby group and think-tank We Believe In Israel.
WHICH LABOUR MPS ARE MEMBERS?
So, we have already seen that there is a link between those that funded and supported Keir Starmer and those that sponsored and endorsed the Tribune Group and its representatives. But are there any more connections between this group and Starmer, and what does their resurgence as a force within Labour represent?
One Tribunite whose significance is under the spotlight is Margaret Beckett. She was elected this week as Chair of the NEC in disputed and controversial circumstances. As reported in the Times "the results have installed allies of Sir Keir in key posts and will make it easier for him to implement desired reforms."
Another member, Lyn Brown MP, wrote in LabourList outlining what principles and policies the Labour Tribune NEC candidates would promote if elected. She states:
Labour can make a huge difference, even after our defeat last year, if we unite. Infighting and tearing each other down makes this so much harder. .. The Tribune group will be an important forum over the coming years for left-of-centre members within Labour to come together…
She identifies Keir Starmer specifically as a member of the Labour Tribune Group.
We then discovered an archived page that whoever administrates the dead site had not managed to erase from the internet. It gives us access to the old site including the original mission statement and links to the group's archives and publications. Most importantly, the page contains a full list of members including the Steering Group. Here are some notable figures that we picked out who are linked to the internal campaigns to undermine Corbyn's leadership, and/or are current members of Starmer's cabinet:
Jon Cruddas
Jonathan Ashworth
Yvette Cooper
Liam Byrne
Rosena Allin-Khan
Rosie Duffield
Louise Ellman
Stephen Kinnock
Ed Miliband
Ian Murray
Lisa Nandy
Steve Reed
Owen Smith
A comprehensive list is also available here from a letter published by the Guardian and signed by the Tribunite MP's calling for the suspension of Corbyn ally Chris Williamson. Signatories include Jenny Chapman, former MP for Darlington, who chaired Starmer's leadership campaign and is his current Political Director. She is a former Vice-Chair of Progress.
CONCLUSION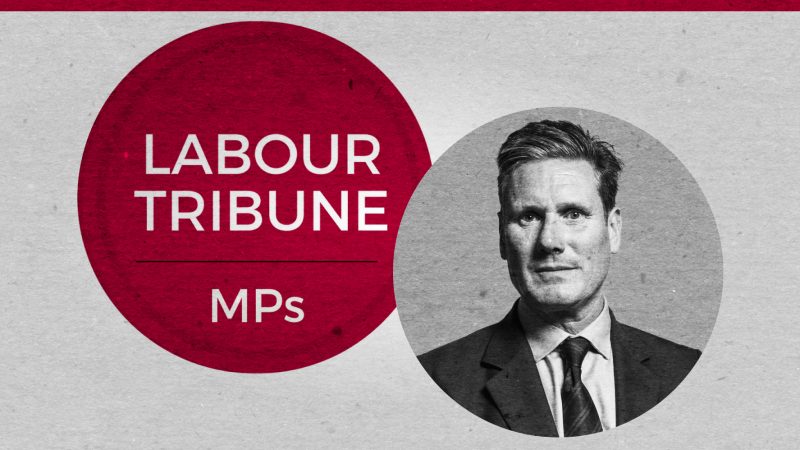 Why would a group of MP's delete the website that contains their identities, not just as individuals but politically and ideologically?
Why would they erase the only direct source to their history and archives?
Why would they replace it with a single page, party political broadcast site (which contains no other info) and have a member outline their manifesto in a third-party site?
And why would they do it now when they were fielding candidates in NEC elections that could dictate the ideological future of the Labour Party?
We don't believe in coincidences and if you follow the threads you can see the pattern emerge. We would argue that the Labour Tribune Group of MP's is now essentially a front organisation, a sock puppet account to use Twitter parlance! They are a laundering service, not just for obfuscating the sources of funding, but also concealing who members are ultimately voting for.
Like Starmer and his allies with Labour, the Tribunites are using a recognisable brand with a strong historical identity to smuggle in a cheap imitation of Socialism.
Both challengers to Corbyn's leadership are members of the Tribune Group.
Donors to Starmer and anti-Corbyn groups are also donors to the Tribune Group.
Members of the Tribune Group are Directors of Anti-Corbyn Groups, including Labour Together, which you'll remember directly funded the Labour Tribune Group!
The Director of an Anti-Corbyn Group that endorsed Tribunite candidates for the NEC is himself now an elected NEC member.
The newly elected Chair of the NEC is a member of the group.
What do you think the implications would be if Labour members saw this insidious web of connections and how it subverts the democratic structures of the party? Remember all those reports linking Momentum and Jeremy Corbyn to the Militant tendency and accusing them of entryism? Perhaps Keir Starmer and his Tribunite comrades could explain to us how this is any different?
They call for unity openly, but behind the scenes, using opaque mechanisms and front organisations like Labour Tribune, they are trying to install loyalist candidates and take complete control of the party machinery.
We will continue to follow our instincts and pursue the Tribunite's for full transparency and disclosure. Keep an eye out for our in-depth investigation and comparison of Keir Starmer and Jeremy Corbyn's donors that we will be publishing soon. This article barely scrapes the surface of how deep the rabbit hole goes!
Feel free to share and quote this article and help us in the fight for the truth and for the future of the Left in Britain today. Solidarity!
(For details on more of these anti-democratic groups funded by the same network of millionaires and peers of the realm check out our expose of all of Starmer's donors!)
Follow Sean Rankin on Twitter: @ClydesiderRed
If you enjoyed this article please let us know in the comments below. You can also subscribe to our mailing list below and receive the monthly edition of The Free Press direct to your mailbox!
Processing…
Success! You're on the list. You can unsubcribe by clicking the link in any Free Press e-mail
Whoops! There was an error and we couldn't process your subscription. Please reload the page and try again.