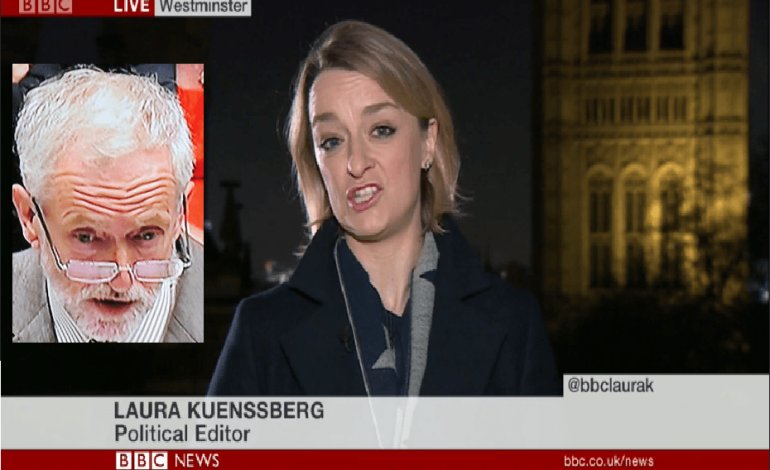 We have pursued the BBC for the best part of a year now in search of a response to Laura Kuenssberg's coverage of Keir Starmer's decision to deny the parliamentary whip to Jeremy Corbyn.
Kuenssberg's report on the issue was arguably the climax (nadir?) of the media's long campaign, in conjunction with centrist Labour MPs and more or less the entire British establishment, to discredit and smear Corbyn.
The report finalised a campaign to turn the world upside down. A respected, long-time anti-racist campaigner was "booted out" (LK's impartial words!) of the party he'd led just months ago, by a man who'd served under him for years, and Kuenssberg presented this to the population as the natural course of events: "if (Keir Starmer) wanted to keep the promise he made solemnly to the Jewish community, did he really have any choice?"
First the BBC pretended they hadn't received our complaint. Then they sent not one but TWO letters blaming a delay in responding on coronavirus. Then they sent a two line reply to our detailed, evidenced critique – "We don't accept that the line in question ("When the report came out, Mr Corbyn suggested it had all been exaggerated") misrepresents Jeremy Corbyn and have nothing further to add on this point"
We escalated our complaint to the BBC's Executive Complaints Unit and have now received an "executive" reply from Richard Hutt, Complaints Director. We will keep our counsel on most of its content for now. What we'd like to know is what you make of it!
Please let us know in the comments at the bottom of this article! The letter is reproduced in full, while our complaint to the ECU, which the letter purports to address, can be reread here
Well? What do YOU make of the BBC's reply? Please let us know in the comments below!
We have two other active BBC complaints at the moment. Enter your e-mail below to subscribe to our mailing list and receive a monthly update direct to your mailbox!
Processing…
Success! You're on the list. You can unsubcribe by clicking the link in any Free Press e-mail
Whoops! There was an error and we couldn't process your subscription. Please reload the page and try again.